To the MANOR drawn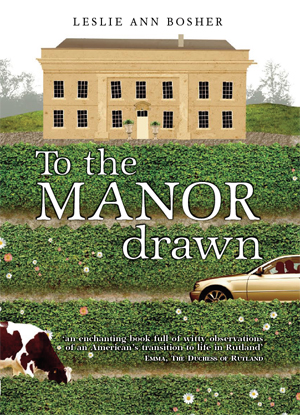 To the MANOR Drawn is a fast-paced, witty read with phraseology that elevates the reader's status from voyeur to participant. Informative and entertaining, it offers an uncluttered account of a devoted Anglophile, holding dual citizenship – American and British, as she exchanges her treasured city life in London for unremitting open space, a herd of gaseous cows and a converted seventeenth-century manor house located in Rutland, England's smallest county.
Moving from city chic to country khaki, Leslie Ann soon peels off the veneer of her new life as she examines contemporary topics from political correctness to The National Health and fox hunting to fashion while supplying an engaging mix of characters and experiences along the way. Her observant description of life outside London is informed and infectiously entertaining.
The book's contemporary layout is unique. Chapters are introduced by authentic emails from American friends who subtly turn the screws on Leslie Ann as she encounters pitfalls in her daily life. Despite their collective bleat, 'You won't last' she has remained firmly planted in Rutland.
Inviting readers on both sides of the 'pond' to put themselves into the picture, Leslie Ann pitches humorous quips and accurate observations. More honest than Bridget Jones's Diary, less ceremonious than the Prime Minister's speeches, her story reflects the fact that choices always have consequences even if you are To the MANOR drawn.
Now available to download on Kindle!
Or to order your copy of To the MANOR drawn please click here.
To learn more about Australia's award-winning publisher, Murdoch Books, please click here.